A GREAT LADY
This article originally appeared in the July/Aug 1990 issue of Pioneer Magazine
We cannot hold back any longer in giving recognition to a Great Lady, florence youngberg is a very important person in our present society. She is an asset in any station of life. She can serve efficiently in any civic position and trust in public service. Especially now in the office of the Sons of Utah Pioneers where she is the Administrative Assistant. Florence is forthright in her deliberations, honesty, integrity, dependability, understanding and leadership. She has the ability to direct programs with dexterity and dispatch.
You can imagine how reliable she is in her home, with her fine husband Glen and her lovely children. You can bet on her to get the job done, her home is run very efficiently, orderly. And last but not least, there is love, respect and beauty all around.
Florence is no stranger to the "pioneer spirit". She comes from good pioneer stock on both her mother's and father's side of her family. She knows how to "Plow new ground." Her great grandfather, Benjamin Franklin Cummings and his wife Mary Jane Yearsley were early residents of Nauvoo.
The yearsley home still stands in Nauvoo, the only three story structure, unrestored because of its good condition, as a monument to its builder. It is being used today as a functional building of that restoration project. Benjamin Franklin Cummings and his wife came to the Salt Lake Valley in the second company that entered the valley. He later opened the Salmon River mission in 1855. He was a man of the buckskin, a doer with much accomplishment to his credit who sought no acclaim. Florence's mother's family, George Saville and Ellen Woodstock were of the same kind of hardy stock.
Florence was born and lived her young life in Highland Park. Her life as a child and young teenager was entwined with the Hugh B. Brown, Earl J. Glade, Clarence Tingey and many other well known church families of that area and time. She attended Highland Park Elementary, Bryant Jr. High and East High School and later, the University of Utah for a short time. Florence met her husband-to-be while singing in the operetta "New Moon" at East, but she did not know it at the time.
Shortly after her graduation from East High, her father Clarence had a very serious automobile accident in which his life was seriously threatened. At the time he was working for the Utah State Liquor Commission as an accountant. President Hugh B. Brown was the Commissioner. The family had no insurance and so would be left without any income. Florence was the only member of the family who could earn any money, so she asked President Brown if she could take her father's place at his job for the months he would need to recover. He very graciously consented to let her do this, and she carried that load until her father could be back on his job.
Florence took an interest in genealogy at the very early age of seventeen. This has stayed with her all of her life. She has served in many positions in her ward and stake. Glen and Florence married in August of 1948 and they moved into the area just south of the present location of the sup building. It was affectionately known in those days as "diaper flats" or by some as "rattlesnake flats". Florence was called to be the president of the Primary by Bishop Irvin Nydegger of the canyon rim ward. She at that time decided on her own to organize the young people of the ward and teach in her home how to do research in genealogy. The class was very successful, and the children loved it and even to this day those children who now have children of their own remind her of the fun days that they experienced doing genealogy.
Florence's grandfather, James Devalson Cummings, was a great influence in the early development of the area south of Sugarhouse to the point of the mountain and from State Street east to the mountains. He was bishop in that area for many years. He wrote a set of 15 volumes of journals while he was bishop of the area, which Florence has placed in the archives of the church, that have much information about the church in that area. Cummings Ward, which still stands on Highland Drive and about 3200 South, was named for him.
Florence had a hand in the early days of the restoration of Nauvoo. Early on, when the project was getting started by T. Edgar Lyons, Florence contributed information from journals and gathered from the family about the early days in Nauvoo for it's background.
Florence is also in the process (edit. since finished) of writing a history of the Parley's Canyon Gully which treats the area from the lower part of the canyon to Sugarhouse. Since this area is adjacent to our building, it is of great interest to us. You would never guess what part this area played in the early development of industry in the valley.
Before Florence came to the SUP her work experience was diverse and she was always at the forefront of whatever effort she undertook.When she was much younger, she worked at Woolworth's. Later, even though she had no formal nurse's training, she worked as a nurse and receptionist for Dr. V. M. Sevy. She worked for ZCMI in the Bridal Department. After leaving ZCMI to start her family, she was Bridal Consultant for the Deseret News where she wrote a weekly column called "Bridequettte" on bridal etiquette.
After getting her family a sufficient start, she was called upon by George Staples who was starting the Granite Education Association, an attempt to start a professional teaching association to better the quality of teaching in that district. For years the effort grew and prospered and was effective in that area. Florence was called upon to write a history of the organization, which she did in fine fashion.
Later on, some of the elected officials in the organization decided to invite some union organizers from Detroit to come here as consultants, and from that point onward the organization changed from a professional organization to a union. Florence left the organization because she could no longer subscribe to its tenets.
From there Florence heard that SUP was asking for volunteer help. She decided that she could work a couple of days each week, and could be some help. After some time the load became heavier at SUP and President John Nielsen, who was President of Canyon Rim Stake at the time and was also SUP Executive Secretary, asked if she would spend full time at SUP. That was eight years ago.
In addition to her life at SUP, she still carries a full load in her church assignments. She is Stake Coordinator for the FREP Extraction Program, She has been very active in the church wide development of this program. She spends many hours each week in administering this program in addition to her regular shift from 7:30 a.m. to 4 p.m. each day at SUP.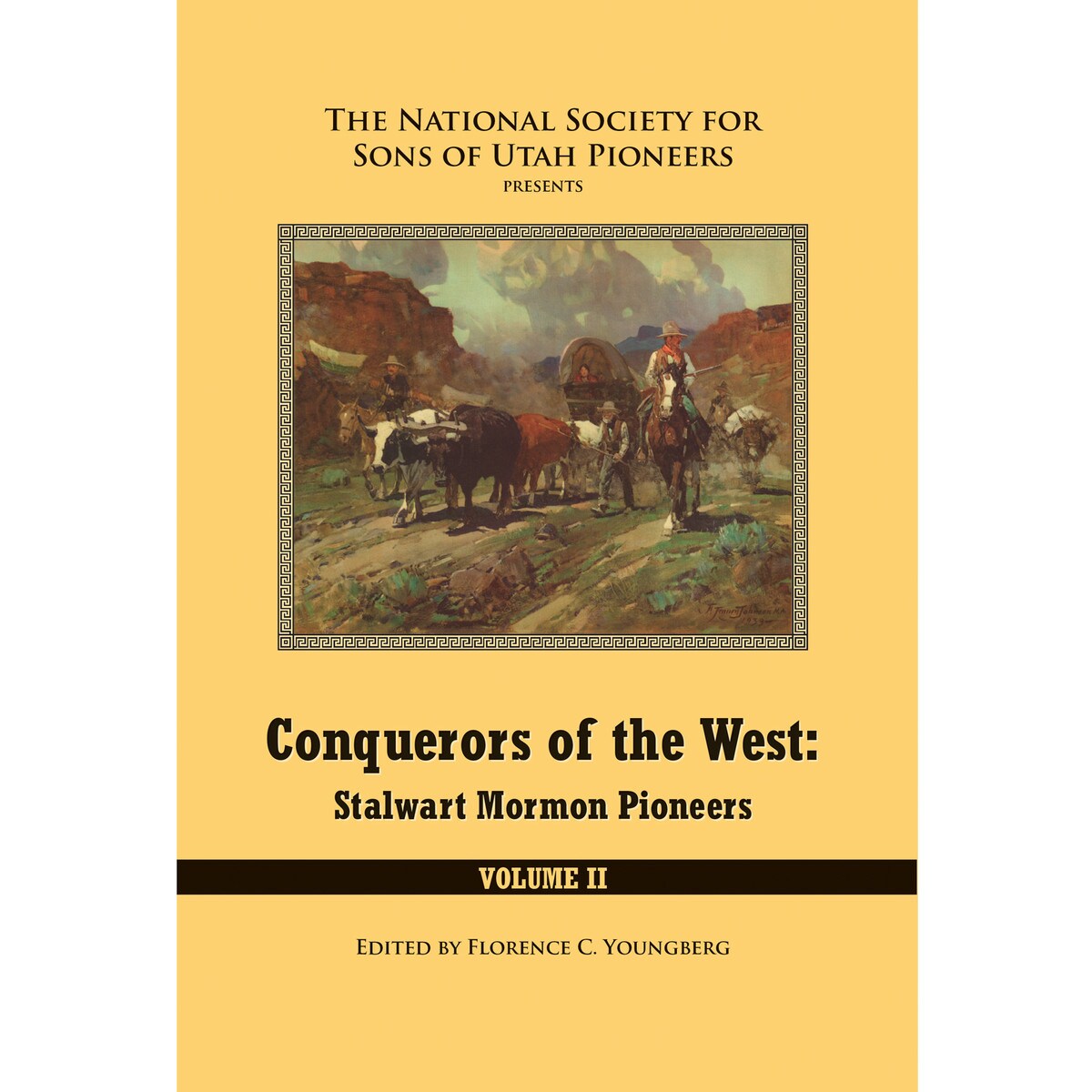 In between times, Florence has published 2 books on her family history. One is a work of considerable size of 533 pages on her mother's line, the Saville Family. She is working on her own life story, a work of ample length and probably much more. She says she will have to live a long life to get all of the things done that the Lord wants her to do. So be it. We wish her well and we feel fortunate at SUP to have her with us.
---
Obituary
Published May 2, 2014
Our much-loved Florence Youngberg, 93, of Salt Lake City, passed away Sunday, April 27, 2014.
She was born August 15, 1920 to Jessie Irene Saville and Clarence Cummings, the oldest of three children. Graduated from East High. Served an LDS mission to California (where her father and grandfather had served). Sang in the Mormon tabernacle choir. Worked nearly thirty years with the Sons of the Utah Pioneers.
She married Glen Elden Youngberg August 20, 1948 in the Salt Lake Temple. She lived in the Canyon Rim area for 60 years, where she was a faithful member of the LDS Church, serving in many callings. Taught by her grandparents the stories of her pioneer ancestors, Florence grew to love family history and devoted much of her life to researching and writing about her forbearers – and to encouraging this awareness in others.
Florence's first priority was her family – her ancestors, husband, children, and grandchildren, for whom no sacrifice was too great, and to whom she was an example of faith, love, and perseverance.
Survived by children Jim (Debbie) Youngberg, and Don Youngberg, grandchildren Troy (Melaina) Youngberg, Carrie (Jason) Robinson, Jennie (Dann) Briscoe, Rebecca (Mike) Whiting, Kiersten (Danny) Blanchard, Adam (Kristin) Youngberg, John (Ashlee) Youngberg, and Tanner Youngberg, and eighteen great-grandchildren. Preceded in death by her parents, her sister Mary Louise (Keith) Swenson, brother Clarence "Bud" (Barbara) Cummings, children Karen Emerson, Robert and Nancy, and two great grandchildren.
The family wishes to thank loving and faithful friends for their visits to
Florence during the past several years, and the staff of Highland Cove and Haven Hospice for their thoughtful and kind care during the final months of her life.