This article originally appeared in Vol.54, No.4 (2007) of Pioneer Magazine.
by Vicki Jo Anderson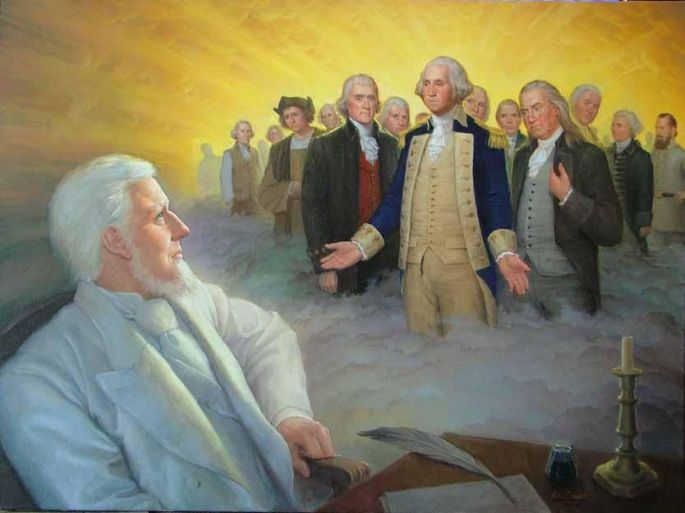 On at least two different occasions President wilford woodruff spoke publicly about the appearance of the signers of the Declaration of Independence in the St. George Temple: at general conference, September 16, 1877, a second time on April 10, 1898. The 1898 talk contained additional information not in the 1877 talk. In the latter, President Woodruff stated that not only had they appeared to him, he also added that he was baptized for the "signers of the Declaration of Independence and fifty other eminent men, making one hundred in all, including John Wesley, Columbus, and others."
He continued:
"I then baptized him [Brother J.D.T. McAllister] for every President of the United States except for three; and when their cause is just, somebody will do their work for them."
In reading this talk the author was struck by a great desire to find out who were these other eminent men. A search of Wilford Woodruff's journal produced the names of the eminent men and of course, they were found again in the records of the St. George Temple. There is some controversy, among scholars, as to whether the "other eminent men" actually appeared. There was a book published in 1873 in New York titled Portrait Gallery of Eminent Men and Women in which a number of these eminent men were listed. There are individuals who are of the opinion that President Woodruff took the names from this book. In an effort to document individuals other than the Signers, the author spent considerable time researching journals of the men who helped President Woodruff with the baptisms, as well as journals of other early settlers of St. George. Not much was found in the publicly recorded journals of these brethren other than they stated that they had participated in the special baptism work. Then a part of a private journal possessed by a member of the Bleak family was sent to me. In it Brother Bleak records:
"I was also present in the St. Geo. Temple and witness the appearance of spirits of the Signers of the Declaration of Independence and also the spirits of the Presidents of the U.S. up to that time. And also others, such as Martin Luther and John Wesley. (The man that started the Methodist Faith) who came to Wilford woodruff and demanded that their baptism and endowments be done. Wilford Woodruff was baptized for all of them. While I and Brothers JDT McAllister and David H. Cannon (who were witnesses to the request.) were endowed for them. These men that we did work for, were choice spirits, not wicked men. And were the best spirits the God of Heaven could find on the face of the earth to perform this work. Martin Luther and John Wesley helped to release the people from religious bondage that held them during the dark ages. They also prepared the peoples hearts so they would be ready to receive the restored gospel when the Lord sent it again to men on earth."
Wilford Woodruff said,
"Would those spirits have come to me and demand at my hand as an elder in Israel that I should go and attend to the saving ordinances in the House of God for them if they had not been noble spirits before God ? They would not. I bear testimony because it's true.3  The spirit of God bare record to myself and these brethren while we were laboring in their behalf" (James Godson Bleak private journal).
This journal gave the second witness that we had been looking for to confirm what we already believed to be true.
This author was also assisted by Lauritz Petersen, a former assistant in the Church Historians office under President Joseph Fielding Smith. Brother Petersen and Brother Tom Truitts were asked by President Ezra Taft Benson to go to St. George to review all the records pertaining to this experience. Brother Petersen found the talk of President Woodruff stating that there were "others." While working together on this project, Brother Petersen, a stake patriarch at the time, felt to give a blessing regarding this work in which it stated:
"You will not look upon that which tears down, finds fault or criticizes for they fulfilled their measure and calling.

. . . They came to Wilford Woodruff and reminded him that they laid the foundations for freedom. Now, as you contemplate and study the lives of these one hundred or so men and women who have appeared to Wilford Woodruff and others in the opening of the Lords temple in St. George temple, that you study the principles of premortal life…. It is this approach that must be taken in compiling this history. So that the children of men, the faithful, the righteous children of our Heavenly Father may realize that they too have a premortal life. They have a calling.

"They have an assignment and it is for them to study and follow the feelings and promptings of the spirit in righteousness" (Blessing by Lauritz Petersen, August 1989).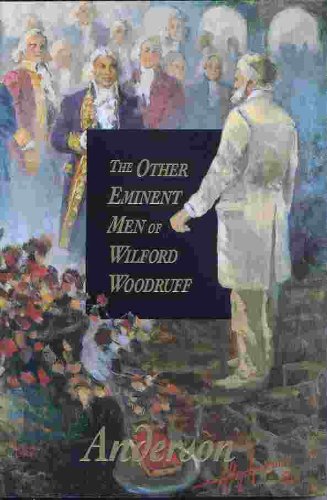 This counsel became the foundation of the book The Other Eminent Men of Wilford Woodruff. The book was written not only to honor these great men but for the reader to be able to draw strength from their stories and to be able to fulfill their own measure and calling.
Recommend

0

recommendations
Published in Articles