This article originally appeared in Vol.65, No.3 (2018) of Pioneer Magazine.
by Thomas G. Alexander and Bob Folkman
Utah's first official US military post was camp floyd in western Utah County, established in 1858 during the Utah War. Until shortly before the Civil War began, more US soldiers were assigned to Camp Floyd than to any other military base in the country. The post closed after only three years, but Camp Floyd was the first of sixteen US military installations established in Utah during the next century.
While the first US military base in Utah was established to counter a perceived rebellion by Latter-day Saint settlers, the bases established after World War I reflect the confidence of the federal government in the loyalty and efficiency of Utah's population and evince Utah's strategic location in the West—not too dose to the vulnerable Pacific Coast but, through excellent transportation, dose enough to access all West Coast ports. The employment generated by bases operating during World War II helped end local effeds of the Great Depression; Utah's active military bases provide important economic benefits to this day.
Utah's sixteen military bases are summarized here in the approximate chronological order of their respective openings. Eight of these were established between late 1941 and early 1943, reflecting the commitment the United States made to end World War II.
CAMP FLOYD, UTAH COUNTY (CLOSED 1861)
As part of their truce to prevent bloodshed during the Utah War of 1857-8, Brigham Young and newly installed Governor Alfred Cumming both insisted that the thousands of regular army soldiers arriving in Salt Lake City in June 1858 should not be settled near Latter-day Saint cities and towns. The leaders feared that careless actions by either the Latter-day Saints or the soldiers could escalate into an armed conflict that would be devastating to the citizens of Utah. Brigham Young and other Church leaders were also concerned about the influence that the thousands of single "Gentile" men might have on the youth of the Church.
Too, there was not enough available grazing land near Salt Lake City to feed the army's thousands of head of horses and livestock. In response to the official request of Gov. Cumming, searches were made for a strategic location with sufficient access to grass and other forage. At length, Cedar Valley—west of Utah Lake between the Lake Mountains and the Oquirrh Mountains—was chosen as the site for the army camp. Its proximity to the most populous Latter-day Saint settlements and to the most heavily used north-south and east-west trails played a part in the choice, although no one considered Cedar Valley an ideal location.
The base was named Camp Floyd in honor of then-Secretary of War John B. Floyd, and it began as a tent city—hundreds of tents surrounded by many more hundreds of wagons. It quickly became an acceptable military post as soldiers, hired laborers from Latter- day Saint communities, and newly unemployed teamsters created rows of adobe buildings—an armory, a stockade, and headquarters buildings first of all, and then barracks and mess halls for the men.
Camp Floyd thrived as headquarters for the region served by the Department of Utah, which included all of Utah and much of what is now Nevada, southern Idaho, and western Wyoming. One of its primary duties was to protect settlers against Indian raids. Gen. Albert Sydney Johnston relinquished command of the Camp in February 1860, and CoL Charles F. Smith succeeded him. The post continued in operation until the beginning of the Civil War; many of the troops were recalled to stations in the Southwest and East, and others joined the secessionist army of the South. Col. St George Cooke took command after Smith, but soon received orders to shut down the post, destroy surplus arms, and dispose of other property as quickly as possible. The post was symbolically renamed Camp Crittenden to remove the name of Secretary Floyd, given that Floyd was a Southern loyalist The camp formally closed on July 27,1861, when Col. Cooke and his last companies of dragoons rode away.
FORT DOUGLAS, SALT LAKE CITY (CLOSED 1991)
Established in October 1862, Fort Douglas was strategically located on the east bench of Salt Lake City near present-day University of Utah; its express purposes were to protect the overland mail route between the East and the Pacific Coast and keep watch on Brigham Young and members of The Church of Jesus Christ of Latter-day Saints. Originally named Camp Douglas—for prominent US Senator Stephen A. Douglas—the post was under the command of Col. Patrick R Connor and was staffed by a volunteer unit called the Califomia-Nevada Volunteers. By 1866 the volunteers had been discharged and replaced by regular army infantry soldiers.
Because of its strategic location near overland trails, telegraph lines, and railroads converging in Utah, Camp Douglas became a valuable Army asset The post was made permanent when its name was changed to Fort Douglas in 1878. A major supply depot and training center from 1900 until well after the end of World War H, Fort Douglas occupied 10,525 acres at its peak. During the World Wars, it periodically housed German, Italian, and Japanese prisoners of war. Prior to the separation of the US Air Force from the US Army after World War II, the command at Fort Douglas included the Salt Lake Airbase and the Wendover Bombing and Gunnery Range.
After World War n activities at the Fort were diminished. It was not large enough to be an effective training center for troops in the modem army, and Salt Lake City had grown to encroach on areas surrounding the post.
The US Government transferred many post land holdings to other government entities—the University of Utah, the Veterans Administration, and the US Forest Service. Other parcels of land were sold outright. Fort Douglas officially closed in 1991, but the Utah National Guard and the US Army Reserve maintain parts of the old fort as a National Historic Landmark, and Fort Douglas Cemetery remains an active US military cemetery.
Opened in 1872 east of Beaver, Fort Cameron's mission was to protect settlers and westward-bound travelers from raids by Native Americans in southern Utah. The US Army stationed four companies of regular troops at the post and constructed substantial rock buildings—headquarters, commissary, a hospital and several barracks. John D. Lee was held prisoner at the Fort before and after his trial in 1877, and a company of soldiers from the Fort was detailed to Mountain Meadows to maintain order during Lee's execution there.
Fort Cameron was closed in 1883 when the railroad readied nearby Milford, enabling troops to be dispatched from Fort Douglas if a need arose. Local businessmen purchased the property. In 1898 the Fort's rock buildings became home to the Murdock Academy, operating until 1922 as a branch of Provo's Brigham Young Academy.
Fort Thornburgh had a brief lifespan, opening in 1881 near Ouray, Utah, with four companies of infantry, then moving in 1882 to a location at present-day Maeser, Utah, before closing by 1884. The post was named for US Army Major Thomas T. Thornburgh, who was killed in a battle with Ute Indians in Colorado in 1879. Fort Thornburgh's purpose was to keep the peace around the Uintah Indian Reservation in Uinta County, where many Utes were being forcibly relocated from Colorado during the early 1880s.
Fort Thornburgh's three years of existence were relatively uneventful. Congress was not committed to funding the needed cold-weather buildings at the fort, and troops were mostly withdrawn during winter months. By early October 1883 all troops— save a single caretaker—had been removed. By the following spring, the fort had been officially abandoned, and settlers in the area had already begun taking over lands originally reserved for the post
FORT DUCHESNE, UINTA COUNTY (CLOSED 1918)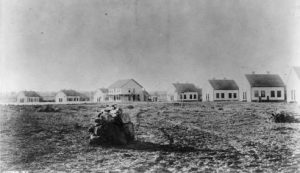 Perhaps the decision to close Fort Thornburgh was premature. During the winter of 1885-86 intertribal conflicts broke out at the newly consolidated Uintah and Ouray Reservation in Utah, and some Utes returned to Colorado where they skirmished with ranchers and settlers. In August 1886 two companies of the black 9th Cavalry and four companies of the white 21st Infantry under the command of Maj. F. W. Benteen left Ft Fred Steele in south-central Wyoming and chose a site on the west side of the Uinta River about seven miles north of its junction with the Duchesne River. There they established Fort Duchesne midway between the two agency trading posts on the reservation, and about thirty miles southwest by wagon road from the abandoned Fort Thornburgh. Because most of the Utes from Colorado and Utah had been gathered to the Uinta and Ouray Reservation, Fort Duchesne effectively replaced Fort Steele, which dosed a few months later.
Fort Duchesne included both wood frame and adobe buildings and received water from the Uintah River via a canal dug by soldiers stationed at the fort. The soldiers also planted shade trees and maintained a large lawn and a vegetable garden, and they improved the wagon road to Price, running a telegraph line alongside it. After 1890 the need for Fort Duchesne had diminished, and the number of troops stationed there was gradually reduced, leaving only the black 9th Cavalry units under the command of white officers. During the next decade, conditions on the reservation continued to improve, and the fort was permanently closed on September 13,1912. Today the tribal headquarters of the Uintah and Ouray Reservation is located at the town of Fort Duchesne, Utah, about three miles north of the old fort.
Looking back on their country's experiences during what was then called the Great War, many Americans hoped the nation would never again be so ill-prepared to defend itself. Despite the strong isolationist sentiment that persisted during the 1920s and 1930s, the nation began to plan how it might more quickly and efficiently supply its troops. Recognizing the need for supply points distant from the potentially vulnerable Pacific Coast, the War Department carefully selected inland and eastern sites for modem arsenals.
Military leaders decided to store twenty-five percent of the materiel on the eastern seaboard, fifteen percent at a site in northern Utah with transcontinental rail connections, and the remaining sixty percent at Savanna, Illinois. The Utah site was an area near Sunset, Davis County's northernmost town, nearly equidistant by rail from three important west-coast cities—Los Angeles, San Francisco, and Seattle. Soon designated the Ogden Arsenal, the site originally was to have received materiel shipped directly from factories, holding it for emergency use.
Contractors completed initial construction of the Ogden Arsenal in 1921, but clearly did not build it to survive the strong winds of northern Davis County. By 1935 all but six of the thirty-five original munitions magazines had blown down, and the arsenal had deteriorated to the point that it looked more like a garbage dump than a military base. Too, only twenty military personnel and no civilians were initially assigned to the base. But in 1935 that began to change.
President Franklin D. Roosevelt and Secretary of War George Dern, Utah's former governor, recognized that the imperialist designs of Germany and Japan were inducing the proactive rearmament of both nations. While the US remained in the depths of the Depression, the Works Progress Administration (WPA) had available manpower to rebuild the arsenal at Sunset.
When Germany began reoccupying German-speaking regions in Europe in 1935, convictions grew that that the world might again be at war and that the US might again enter the conflict Consequently, the Ogden Arsenal was expanded to include several new structures. By the time the US officially entered World War II in December 1941, the arsenal was no longer just a storage facility, but a site for making bombs and loading artillery shells. After 1941, the arsenal increased in importance as a storage/shipping site for military vehicles and small arms ammunition.
Between August 1945 and the outbreak of the Korean War in 1950, the Ogden Arsenal experienced a reduced level of activity. By 1946 employment had declined to 1,200 military and civilian personnel from a high of 6,000 in 1943. While activity picked up somewhat during the Korean War, by 1955 the Army had assigned the arsenal's mission to the Tooele Ordnance Depot in Tooele County (later the tooele army depot), and had expanded hill air force base to incorporate the arsenal's buildings. Indeed, the large brick buildings on Hill AFB's western perimeter—today visible from 1-15—were once part of the Ogden Arsenal.
CAMP W. G. WILLIAMS, SALT LAKE COUNTY (ACTIVE)
Occupying a large and rugged tract of land west of the Jordan River at the southern border of Salt Lake County, Camp W G. Williams, commonly known as Camp Williams, was established in 1928 as the training and encampment site of the Utah National Guard. Still maintained as a training facility, it includes the Non-Commissioned Officer's Basic Leader Course that trains active-duty, reserve, and National Guard servicemen. Added to the site in 2013, the National Security Agency's National Cybersecurity Initiative Data Center is a highly secretive and advanced technology operation with more than 1.5 million square feet in its main building.
HILL AIR FORCE BASE, DAVIS COUNTY (ACTIVE)
In 1935, with support from Secretary of War George Dern and Utah Senator Elbert D. Thomas, Congress passed the Wilcox-Wilson Act authorizing the Secretary of War to locate a permanent air corps station in the Rocky Mountain area. Subsequently, Lt. Col. Henry H. (Hap) Arnold visited Ogden as a representative of the Military Affairs Committee and designated the larger Ogden area as a potential site for such a base.
In order to prevent land speculation that would have artificially boosted the price of the base, the Ogden Chamber of Commerce optioned land in northern Davis County east of Sunset. After the Department of War officially selected the Ogden site from among other sites in the Intermountain West, construction began in 1938, largely relying on WPA personnel. When the base was completed in 1942, the Army named it for Major Ployer P. Hill who had died in the 1935 crash of a prototype of the B-17 Flying Fortress.1
During World War II, employment at Hill increased rapidly. By May 1943 there were 21,780 civilian and military personnel working at the base. Through late 1945 personnel at Hill maintained and repaired such reciprocating engine aircraft as the B-17 bomber, B-24 Liberator, B-26 Marauder, P-39 Aracobra, P-40 Warhawk, P-47 Thunderbolt, A-20 Havoc, and AT-1 trainer.
The rapid expansion of Hill and of area businesses supporting it led to a housing boom in the Davis-Ogden area. Federal agencies built such housing units as Grand View Acres and Washington Terrace in South Ogden, Bonneville Park in northeast Ogden, Verdeland Park in east Layton, Anchorage Acres in Clearfield, and Sahara Village just south of Hill Field Buses transported employees to Hill Field from their homes in Ogden, Salt Lake City, and Davis County towns and rural areas.
Following the war, Hill Air Force Base—now designated as the Ogden Air Materiel Area (abbreviated as OOAMA because bases were required to have five letters in their acronym)—was primarily responsible for the repair, storage and disposal of aircraft used during WWII. Employees cocooned or "pickled" some aircraft for storage and prepared other planes for sale as war surplus. In 1949, the Air Force designated Hill Air Force Base as a site for maintaining, supplying, and repairing various engines and aerial electronic and photographic equipment By 1950 the US Department of Defense was considering phasing out operations at HAFB.
Such talk came to an abrupt halt in June 1952 as North Korean forces invaded South Korea and as the United States entered the Korean War as South Korea's ally. By August of that year, employment at the base had increased to 12,210. In June 1952 the Air Force decentralized operations and made Ogden Air Materiel Area its prime manager for various weapons and weapon systems. During the Korean War, the Air Force switched from reciprocating-engine planes to the jet-engine planes that have become its mainstays. OOAMA emerged as a major site for the storage, repair, and maintenance of such aircraft as the F-101 Voodoo, F-84 Thunderjet, and F-102 Delta Dagger.
During the mid- and late 1950s, and as a unit of the Air Force Logistics Command, OOAMA assembled Minuteman intercontinental ballistic missiles and maintained and repaired the RJ-43 Ramjet and LR-59 missiles at Hill Air Force Base. With these and other new responsibilities, OOAMA became Utah's largest employer, boasting more than 15,500 employees by December 1963.
In 1959 Hill AFB was designated the Ogden Air Logistics Center and became a prime agent in the supply and maintenance of such fixed-wing jet aircraft as the F4 Phantom II, F-16C Fighting Falcon, and F-35 Lightning. Base operations expanded during the 1980s and 1990s as the United States became involved in wars in Iraq and Afghanistan. It became standard for military aircraft to conduct training missions along a corridor stretching from Hill AFB to Utah's west desert Such units as the 388th and 419th Fighter Wings are now stationed at Hill and deployed to the Mideast and to Southeast Asia.
In 2012, the Ogden Air Logistics Center was re-designated the Ogden Air Logistics Complex (OALC). Hill's former logistics center was reassigned to the Air Force Sustainment Center (AFSC) at Tinker AFB, Oklahoma. Nevertheless, with more than 20,000 military and civilian personnel, the OALC remains Utah's laigest employer of onsite employees.
UTAH GENERAL DEPOT, OGDEN (CLOSED 1997)
Located adjacent to the city limits northwest of Ogden and fronting the railroad right-of-way on its east, the Utah General Depot consisted of more than 1,000 acres of pasture, farming, and slough land It was established in September 1941 when war was underway in Europe and the likelihood of a worldwide war loomed on the horizon. Throughout its thirty-six-year history, the General Depot served one primary purpose: receiving, storing, and redistributing materials for use by all branches of the military in all parts of the world, in peacetime or war. The base always had a small contingent of regular Army staff and many civilian employees, peaking at about 4,000 in 1945.
The Depot played a vital role in supplying soldiers deployed around the world with the most mundane supplies, ranging from personal care items, dothing, and food to medical supplies, construction tools, and building materials. During World War II as many as 5,000 prisoners of war were incarcerated at the Depot During the three wars it actively supplied, the Depot shipped more materials by rail, ground, and air transport than all other supply bases in Utah combined.
Known unofficially as "the General Depot" and "Second Street"—referring to the address of the main entrance to the base—the Utah General Depot became Defense Depot Ogden (DDO) in 1964 as part of the reorganization of the US military supply chain. The Base Realignment and Closure Act of 1995 called for shuttering the DDO and many other WWH military facilities nationwide that had outlived their usefulness. Officially closed in 1997, the base is now Business Depot Ogden, a business park utilizing the large WWH warehouses and new state-of-the-art manufacturing buildings. The site also houses a large IRS data center and an active Army Reserve facility.
WENDOVER ARMY AIR BASE (UTAH TEST AND TRAINING RANGE) (ACTIVE)
Located near Wendover, a town on the western salt desert that straddles the Utah and Nevada borders, Wendover Army Air Base was established in 1942 and was initially used as a bombing and gunnery training base for B-17 and B-24 heavy bombers. Because of the bases unique isolation and useful physical characteristics, other fighter aircraft began training there by 1944, and by early 1945 new B-29 bombers were utilizing the test range, including the Enola Gay that dropped the first atomic bomb.
Command of Wendover Army Air Base evolved over the years, and primary responsibility for the test range was assigned to command units located at Hill AFB. The capabilities of the test range have advanced to meet the needs of todays increasingly technology-driven military. In 1979 the test range was re-designated the Utah Test and Training Range (UTTR), and some land that was originally part of the range is now part of Dugway Proving Ground.
Because of its size—more than 12,000 square miles— and continued isolation west of the Great Salt Lake, the range is heavily used. Its long supersonic corridors enhance its value to US military agencies and contractors and contribute greatly to the stability of HAFB as an important employer in Utah. The UTTR can be used for large-force training as well as airborne exercises; the UTTR also tests drones, cruise missiles, and other advanced vehicles on site.
In February 1942, the Army chose 5,000 acres of agricultural land on the northwest side of Salt Lake County as a basic-training site for pilots and ground crews. Like other WWII-era bases in Utah, the Kearns Army Air Base was deliberately located far inland from the vulnerable Pacific Coast, yet at a site with easy access to railroad lines and highways and to a major commercial airport.
In a very short time construction workers—including young Japanese American men whose families had been sent to internment camps—completed nearly 1,000 buildings at "Basic Training Center No. 5," the camp's original name. Housing as many as 43,000 troops by 1943, the base became the third-largest community in Utah. The base had four fire stations, five chapels, three theaters, two large gymnasiums, sixteen mess halls, at least five Post Exchange stores, a huge warehouse complex, and two segregated service clubs. By the time the base closed in 1947 its name had changed to Camp Kearns, and more than 90,000 soldiers had trained there.
DUGWAY PROVING GROUND. TOOELE COUNTY (ACTIVE)
Established in 1942 on land originally acquired for the testing range at Wendover, Dugway Proving Ground covers an area of 1,252 square miles of the Great Salt Lake Desert Its mission includes testing of chemical agents and delivery or defense systems that have been or might be used in military or terrorist engagements. The government deactivated Dugway for about ten years after 1943, but because of its remote location and its proximity to other military support facilities, it reopened in 1954. In addition to its role as a testing facility, Dugway has proved useful for training specialized military units to serve in desert or high-altitude environments around the world. It also provides advanced telemetry and radar tracking of flight operations at the Utah Test and Training Range. Understandably details of base activities are closely guarded, and security is tight.
TOOELE ARMY DEPOT, TOOELE COUNTY (ACTIVE)
The Tooele Ordnance Depot opened in 1942 to support US military operations during WWII, particularly the storage, fabrication, maintenance, testing, demilitarization, and shipping of munitions. Renamed the Tooele Army Depot (TEAD) in 1962, the facility also became responsible for storing, testing, and shipping topographical and construction equipment and troop support materials; these additional responsibilities ended in 1993. Today, most employees at TEAD are civilians, although active-duty military personnel serve there and command the base. Tooele Army Depot covers an area of more than 23,000 acres, and indudes nearly 2,000 munitions storage bunkers and buildings.
Also established in 1942, Deseret Chemical Depot operated until 2013, first as a storage facility for chemical weapons and later as the site where surplus or defunct chemical weapons—including mustard gas—were destroyed using advanced incineration technology. When Deseret Chemical Depot closed after more than seventy years, some of its activities were transferred to Tooele Army Depot. Because of the dangerous and controversial materials stored at the base, Deseret Chemical Depot was often in the news during its tenure, and its closing was welcomed by most residents of Utah.
This important hospital served all brandies of the military from August 1942 to June 1946. It occupied a 235-acre campus on Brigham City's south side with more than sixty buildings housing patient wards, operating rooms and surgery centers, rehabilitation facilities, a dental clinic, officers' quarters, apartments for medical personnel and enlisted men stationed at the hospital, administrative offices, cafeterias, a post office, a post exchange, a chapel, a gymnasium, a movie theater, and an auditorium.
At the peak of World War II in 1944 the hospital had an official capacity of about 2,500 beds, but its assigned patient load was over 3,500. During its four years of operation, 13,000 patients were treated by a staff of more than three hundred military personnel, dozens of civilian employees, and a network of community volunteers from across Utah. Most soldiers treated at the hospital were from Utah, Arizona, Idaho, Montana, and Nevada. A prisoner-of-war camp was also located at the facility, and German and Italian prisoners assisted in maintaining the hospital grounds. When they needed medical treatment prisoners were taken to a secure ward with a capacity of forty beds.
Bushnell was noted for its liberal experimentation with penicillin at a time when its use was not yet common. As a result, Bushnell Hospital had a relatively low death rate among wounded and injured veterans of World War II. After the hospitals closure, the Intermountain Indian School occupied the large campus from 1950 until 1986.
After the outbreak of WWII, the US War Department authorized the Naval Bureau of Supplies and Accounts to purchase land on which to build storage facilities totaling seven million square feet The Bureau recommended a site at Clearfield in northern Davis County. Farmers in the area protested the taking of their land, but the Ogden Chamber of Commerce supported the Naval Bureau's decision just as they had supported the site for Hill Field. With WWII fully underway, the national war effort took priority over local concerns, and in May 1942 President Roosevelt authorized Secretary of the Navy Frank Knox to purchase the land and begin constructing Clearfield Naval Supply Depot (NSD Clearfield). A Clearfield elementary school provided temporary headquarters to directors of the project; construction continued until April 1943.
As with the Ogden Arsenal, NSD Clearfield's access to rail transportation was critical. Workers used large overhead cranes to unload and reload railroad cars on the main tracks. Every large warehouse on the site had rails on one side of the building, a road on the opposite side, and many bay doors on each side for efficient movement of materials. NSD Clearfield's location also gave it quick access to air transportation via Hill AFB.
In addition to storing and shipping critical war materials, the depot was also a depository for personal effects of Navy, Coast Guard, and Marine personnel missing in action.
Employment at NSD Clearfield soared during WWII. The original 2,452 military and civilian personnel employed in 1943 increased to 7,624 by 1945. During the Korean War, employment hovered between 2700 and 3300. After the Korean War, employment steadily declined until June 1962 when only 435 military and civilian employees remained at the base. Most functions of NSD Clearfield ended in October 1962.
After the General Services Administration declared Clearfield NSD to be surplus property, civilian companies purchased most of the site. Now known as the Clearfield Freeport Center, the site is home to several large manuftcturing, storage, and distribution businesses.
POSTSCRIPT
It is somewhat ironic that while Utah's pioneer founders were originally attracted to Utah because of its isolation, that same isolation has attracted a military presence to Utah unequalled by any other non-coastal state.
The importance of Utah's legacy of national military installations carft be overstated. The military personnel and the missions of each of these have influenced Utah's national identity and helped establish the military security of the United States. Economically, from the Utah War to the present, Utah's military installations have benefitted individuals, businesses, and all levels of Utah government; this was especially true during the Great Depression. Military personnel and their families, government contractors, and civilian employees from every region of the country have enriched Utah's identity and character through their ethnic, religious, cultural, and academic diversity and through new skill sets that have pushed Utah to the forefront of twenty-first century technological advancement.
---
1 Ployer Peter Hill was a skilled test pilot who, during his career, tested more than sixty new or experimental aircraft for the Army Air Corps. The crash of the prototype aircraft occurred at Wright Reid, Ohio; Hill was 41.