This article originally appeared in Vol.51, No.4 (2004) of Pioneer Magazine.
by Mary A. Johnson, President, International Society Daughters of Utah Pioneers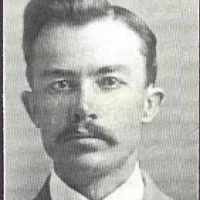 It was in 1954 when I first became aware of that epic journey called hole-in-the-rock. It was many years after this that I caught a true vision of the tremendous pioneering effort it was. My friend, Alberta O'Brien had talked much about her early growing up years in Blanding, Utah, but until I was invited to her home to hear her father speak about his father, Platte D. Lyman, leading the travel through Hole-in-the-Rock and settling in and building up San Juan County, it was just another pioneer story to me. Albert R. Lyman, who was carried down the slopes of that great rocky hole as a baby by his mother, was now in his eighties, his body a bit frail, but his voice strong and forceful as he related the story of the tremendous struggle of those who were called to be part of that Peace Mission.
It was in 1879-1880 that this mission took place by men and women called from many Southern Utah settlements. David E. Miller claims,
"None ever demonstrated more courage, faith, and devotion to a cause than this group of approximately two hundred fifty men, women, and children with some eighty wagons and hundreds of loose cattle and horses who cut a wagon passage through two hundred miles of this country. Even the wily mountain sheep could not have negotiated the Hole-in-the-Rock before it was given a 'face lifting' by those pioneer road builders."1
A group of Mormon men had taken another, easier route in the exploration of this area, but when the actual pioneering group headed out, it was late in the year and they chose what they thought would be a shorter route. It was in December 1879 when Silas S. Smith and Platte D. Lyman had their first look at Hole-in-the-Rock. Lyman said, "It is certainly the worst country I ever saw. . , . Most of us are satisfied that there ls no use of this company undertaking to get through to the San Juan this way."2
But, Silas S. Smith was the expedition president and he felt that with blasting powder and additional tools they could make the project work. Besides, there was no wTay to turn back because of the heavy snowfall and bad weather in the path they had just traveled. So, Silas Smith returned to Utah to try to get funds from the state legislature to help with supplies needed. Platte D. Lyman, being the first attendant of the group, became the leader for the trek. As they explored possible passages, Lyman called a meeting to see how others felt about the situation. It was a discouraged group that met, but one silver-haired Danish gentleman, Jens Nielson, declared that with the right kind of "stickety-to-it" they could and would go on whether they could or not."3 And so they pursued the trek.
Actually, the "Hole" was just a narrow slit between two mammoth rocks with 2000 feet separating the top from the river below. There were spots in the slit where a man could almost reach from side to side with outstretched arms and yet they had to clear space for wagons to get through. Because of sickness and other problems, Silas Smith did not return with supplies until the journey was completed so the work of clearing was a mammoth task with few adequate tools.
They inched their way down, one wagon at a time, Albert R. Lyman explains that they "roughlocked every wagon and had a rope tied to the back of it as it went down, and they hung desperately on to the rope to keep the wagon from keeling over forward. Every roughlocked wagon going down that first pitch dragged tons of sand and stone along with it, so that the company had to throw in more from the top to preserve the grade up to the first vertical drop."4
Getting through the "Hole" was not the only obstacle they faced. When they got to the San Juan River below the "Hole" they had to find a way to cross it to the other side. Then they had to travel the desolate slick-rock country to try to reach Montezuma, where earlier pioneers were awaiting them. After climbing a most challenging "San Juan Hill" the group was exhausted and hungry so they decided to establish their own community in a spot they called Bluff.
Mr. Miller points out that a trek that they had expected to last six weeks required almost six months. However, they accomplished their purposes and went on to fulfill their "Peace Mission" which was to conquer the land, make peace with the many tribes of American Natives, and rid the area of outlaws who came to this secluded spot to escape the law. None of these were easy tasks. In fact, this was probably the most difficult of any of the pioneering experiences, even that of the Martin and Willie handcart companies. One of these explorers, Mons Larson, declared always, that the handcart journey in which he made the journey from Winter Quarters to Salt Lake City was not nearly so hard as the journey through Hole-in-the-Rock.5
Now, as I look at Ferrell R. Collett's painting of the Hole-in-the-Rock, which hangs in our Pioneer Memorial Museum, my heart swells with gratitude to those hardy, faithful pioneers who endured this treacherous experience to fulfill the mission to which they were assigned. What an example of dedication they left us.
---
Notes
David E, Miller, Hole-in- the-Rock: An Epic in the Colonization of the Great American West (Salt Lake City: University of Utah Press, 1959), ix.
Ibid .
Albert R. Lyman, Indians and Outlaws: Settling of the San Juan Frontier (Salt Lake City: Bookcraft, 1962),
Ibid.
(Ellen J. Larson Smith)
---
by Jeffrey S. Hardy
Albert Robison Lyman was born on 10 January 1880 in Fillmore, Utah to Platte D. Lyman and Adelia Robison.  Albert's early life was spent in Bluff, San Juan County, Utah, which his parents helped settle.  In 1884 the family moved to Scipio, Utah, where he was baptized into the Church of Jesus Christ of Latter-day Saints on 2 April 1888.  Three years later they returned to live in Bluff "in a very small log house with a mud roof." 1  As a youth he assisted his father in tending their cattle and also engaged in making shoes.  Life was difficult for the Lymans and Albert described himself as a firm atheist who could not understand why God let people and animals suffer and who believed that "this is just a world of meaningless, merciless chance." 2  This changed, however, after a miraculous prayer on the banks of the Colorado River.  He later expressed the change of heart that occurred: "Now I know there is a God, for He has shown me His power in a way I can not deny." 3
Albert received a call to serve a mission to the Southern States in February 1899.  After arriving in Salt Lake City to be set apart for this calling, however, it was changed to the British Isles so that he could serve under his father, then president of the European Mission.  Upon arriving in Liverpool, England in April 1899, Albert was assigned to labor in the Leeds Conference.  Still struggling with his testimony he studied and prayed until one day while preaching he felt "with uncompromising testimony that the ancient gospel had been restored from heaven to an apostate world." 4  On his mission Albert also developed a love for education and literature and frequented the libraries of England.  Due to poor health, however, Albert was released from the mission field after only a year and a half.  Of this he lamented: "It seemed that every organ of my body was seriously out of gear and the dismal thot of having to return home passed like a doleful spectre [sic] thru my mind." 5  He returned home on 13 November 1900 weak and discouraged.
After several long months recovering from his ailments Albert finally felt well enough to resume some semblance of a normal life.  Once again he tended cattle and looked after his family while his father was still in Europe.  He also began to court Mary Ellen Perkins, known by all as Lell, with whom he had corresponded during his mission.  They were married on 26 June 1902 in Salt Lake City.  Lell would eventually bear fifteen children.  In spring 1905 the young couple and their first child, Casse, became the first settlers of Blanding, San Juan County, Utah.  During this time he was Stake Superintendent of the Young Men's Mutual Improvement Association for the San Juan Stake, a calling that took him all over southeastern Utah and into Colorado and New Mexico.
In Blanding, Albert cultivated a farm, operated a small mercantile establishment, and started a record of every important thought or impression that came into his head.  This record, aptly named "Thots" eventually occupied seventy volumes.  Albert was active both professionally and ecclesiastically; in 1908 he was appointed as County Superintendent of Schools for San Juan County and on 13 November 1910 he was called to serve as second counselor to President Redd in the San Juan Stake.  Two years later he became first counselor, a calling he held until December 1928; he also fulfilled numerous ward callings during these years, primarily in a teaching capacity.  From 1928 to 1930 he worked as a seminary teacher in Huntington, Utah, but in 1930 he returned to Blanding and became postmaster.
Tragedy struck in 1935 when Lell became seriously ill and was forced to relocate to Salt Lake City to receive medical treatment.  In 1938 Albert moved his family there to be with her until the end.  Just before her death, on 13 May 1939, Lell instructed him to marry her widowed sister, Gladys, so she could watch over him and the children.  He acted accordingly, and they married on 14 June 1939.  In October 1940 he was called to be patriarch of the Salt Lake Stake; however, he yearned for the wilderness of Southern Utah, and in 1942 moved back to Blanding.  In 1944 and 1945 he and Gladys were called on a short-term mission to the Native Americans in the Navajo-Zuni Mission.  The following year they were called on a permanent basis to serve the Indians communities around Blanding, where they were influential in establishing schools for the Indian children until their release in 1949.  He was also influential with the youth of Blanding as a seminary teacher until 1954.
Throughout his life Albert thirsted for knowledge in all fields of study.  He also obviously enjoyed writing as a form of personal expression: besides his "Thots," he recorded his life in an autobiography and forty-one volumes of diaries.  He also wrote several biographies, two histories of San Juan County, a history of Blanding, and even a few works of fiction.  Poetry also interested him and his daughter Ellen published a 336-page collection of his verses after his death.  He was known as an eloquent speaker and people frequently asked him to give church sermons and funeral eulogies.  In 1973, at the age of 93, he moved to Provo, Utah, to live with his daughter Ellen.  There Albert Robison Lyman passed away on 12 November 1973 and was buried in the Blanding cemetery.
Bibliography
Ancestry World Tree Project. Provo, Utah:  MyFamily.com Inc., 2003. 1 December 2003 available from http://www.ancestry.com/trees/awt/main.htm.
Bluth, John. A Register of the Albert R. Lyman Collection: MSS 1425. Provo, Utah:  Division of Archives and Manuscripts, Harold B. Lee Library, Brigham Young University, 1979.
Jensen, Andrew. Encyclopedic History of the Church of Jesus Christ of Latter-day Saints. Salt Lake City:  Deseret News Publishing Co., 1941.
________. Latter-Day Saint Biographical Encyclopedia: A compilation of Biographical Sketches of Prominent Men and Women in the Church of Jesus Christ of Latter-day Saints. Vol. 4. Salt Lake City:  Andrew Jenson Historical Co., 1901-1936.
Lyman, Albert R. "Journals, 1893-1973." MSS 1425, L. Tom Perry Special Collections, Harold B. Lee Library, Brigham Young University.
________. The Great Adventure: A Story with a Preamble and Told in the First Person Singular. Blanding, Utah:  A. R. Lyman, [196-?].
Lyman, Karl R. The Old Settler: A Biography of Albert R. Lyman. Salt Lake City:  Publishers Press, c1980.
United States Federal Census, 1880, 1920. Provo, Utah:  MyFamily.com Inc., 2003. 6 December 2003 available from http://www.ancestry.com/search/rectype/census/usfedcen/main.htm.
Warrum, Noble. Utah since Statehood: Historical and Biographical. Vol. 4. Chicago:  S. J. Clarke Publishing Company, 1919.
Recommend

0

recommendations
Published in Articles, Pioneer Stories