This article originally appeared in the May/June 1971 issue of Pioneer Magazine
By W. T. (Mack) Woolley
Rising east of the Wasatch Mountains and Utah Valley, Strawberry River flows eastward to join the Duchesne River. An abundance of wild strawberries grew in the high, well-watered Strawberry Valley, and thus the valley and the river were named.
---
strawberry reservoir
vis Visit Utah
Strawberry Reservoir was formed in the south end of Strawberry Valley. This was an unusual engineering feat in that the impounded water is drained off through a tunnel in a direction opposite to the flow of the river. The tunnel was bored under a low divide to the southwest making it so the Strawberry River waters have been diverted to irrigate farmland in southern Utah Valley. Strawberry Reservoir is a favorite fishing spot for many fishermen.
---
Howard Stansbury named the mountains off the northwest shores of Great Salt Lake on October 29, 1849. He called them the terrace mountains because of the 13 terraces he counted, marking the shore line of the extinct Lake Bonneville. These mountains are located in Box Elder County and rise to 7028 feet.
---
Mount Timpanogos, Utah County, elevation 11,750 feet, is probably the most magnificent block in the Wasatch Range. The eastern aspect is truly Alpine. The name is a variant of the aboriginal name of the river flowing at the south base and also the name of the natives who lived on the shore of Utah Lake, known in Yuta tongue as "Timpanogo"—Ute for Rock River. After Provot became the name of the River, Timpanogos was adopted by the whites for the mountain.
---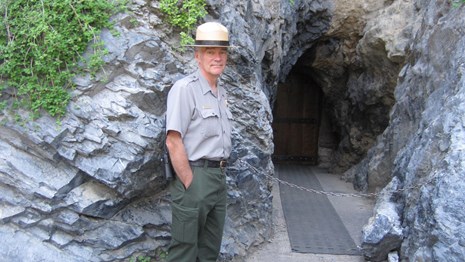 Timpanogos Cave National Monument derived its name from the mountain on whose north slope in American Fork Canyon the limestone cave is located.
---
uintah county was named for a division of the Uta Indians. According to Gannett, the name means "Pine Land." An early form of the name was "Euwinty." This county, which extends south from the crest of the Uinta Mountains to a common boundary with Grand, is a long rectangular shape and one of the original eight counties organized in 1850. It has since been divided, making Duchesne, Daggett and Uintah Counties.