[vc_row][vc_column][vc_tta_accordion style="modern" active_section="1″][vc_tta_section title="gosiute" tab_id="1559197561895-d2ad79e3-4420″][vc_column_text]
Gosiute is an Indian reservation west of the Deep Creek range of mountains in northwestern Juab County, extending into Nevada. There is a Gosiute native village on the reservation.
Gosiute is the name of a Great Basin Indian Tribe concerning which there has been confusion as to their affiliation. The Gosiutes are predominantly Shoshoni. The etymology of the word is: Gosi, a prefix rooted in the Shoshoni "gosip" for "dust," referring to the dust storms of the desert. The suffix Ute refers to people. Their homes were the most severe of the entire Shoshonian area. Their poverty was pathetic. They lived in small valleys or at water holes on the edge of the Great Salt Lake Desert.
---
See Also:
[/vc_column_text][/vc_tta_section][vc_tta_section title="LaVerkin" tab_id="1559197561918-907ae7cd-28df"][vc_column_text]
LaVerkin Creek in Washington County drains the southwestern part of Kolob Terrace and Kolob Canyon, then flows southerly parallel with Ash Creek which joins it just north of its confluence with the Virgin River. A high, narrow, lava-covered ridge intervenes between the two creeks. The name LaVerkin existed when the first Americans began exploring the Virgin River region.
This creek must [have] been named by the Spanish explorers or traders from Santa Fe early in the 19th century, but the correct Spanish name was not absorbed into American toponymy. The name was badly corrupted.
There is no reference to its origin or significance in historic literature. Corruption of Spanish and Indian names was almost the rule rather than the exception in early American times in this region. As the creek is a tributary of the Virgin River, and the name of the tributary sometimes follows the prototype name, it is most probable that LaVerkin is a shortened and corrupt form of the name of the mother stream, Rio de le Virgen. There is no "K" in Spanish: but the K sound in Verkin is quite similar to the Spanish "G" in Virgen.
---
See Also
[/vc_column_text][/vc_tta_section][vc_tta_section title="gothic wash" tab_id="1559198685232-280352a7-7702″][vc_column_text]
Gothic Wash and Mesa are in San Juan County, and are south of the San Juan River southwest of Bluff. The name derives from the type of erosion of the topography there—pointed arches, suggestive of Gothic architecture.
[/vc_column_text][/vc_tta_section][vc_tta_section title="Goulding Trading Post" tab_id="1559199241158-8d535b10-d5dc"][vc_column_text]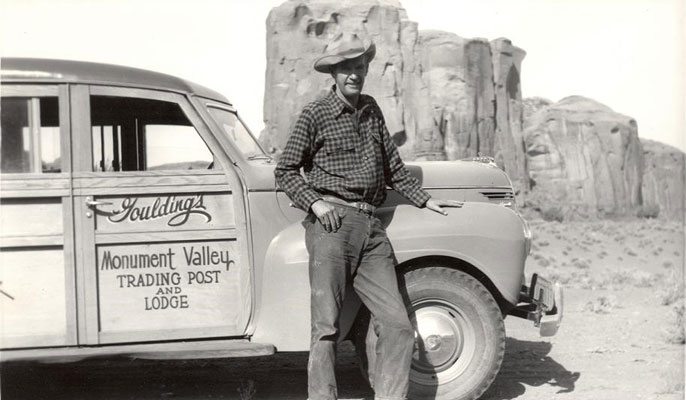 Goulding Trading Post, in San Juan County, is [in] Monument Valley just north of the Utah-Arizona boundary. The name is that of the founder Harry Goulding, who was one of the first licensed traders to the Navajo people. For years, white travelers have found Goulding's a haven of succor in the primitive Navajo country.
---
See Also:
[/vc_column_text][/vc_tta_section][/vc_tta_accordion][/vc_column][/vc_row][vc_row][vc_column][vc_column_text]
This article originally appeared in the May/June issue of Pioneer Magazine
[/vc_column_text][/vc_column][/vc_row]